Rain gutters help remove water from your roof and away from your home with a series of conduits and downspouts. They will protect your home from the ravages of weather so it only makes sense to add them. After all, a new roof, new windows, or new siding won't last long if rain is not channeled away. We can do a gutter installation that will keep your Birmingham home well protected year after year.
Why You Need Proper Rain Gutters
Downspouts
Water that's not properly diverted from your home can pool around the foundation. It can lead to water in the basement and erosion under your foundation – very costly to fix!
Gutter Covers
A quality gutter shield prevents falling twigs, leaves and pine needles from resting against the roof edge. If you don't remove this debris, it can rot your shingles, decking and rafters. Your home's safety could be compromised.
Walls
A soaked roof can lead to leaks behind walls. It can saturate drywall, framing and joints. That won't happen when you choose us to do your installation!
Mold
Any water that gets into building materials can cause growth of mold – even toxic black mold. The spores spread through your A/C ducts, creating breathing difficulties. Stop the problem before it starts – call now.
Ice Hazards
Rain gutters that don't work properly can sag from the weight of ice on the roof. They create slick patches on driveways that cause slips and falls. We can add heating rods to prevent ice dams and keep moisture flowing properly.
Pests
Damp building materials are a haven for termites and other critters. Keep water away from your house with a gutter system to prevent a terrible pest problem.
Easy to Install and Afford
Our rain gutters come in segmented lengths that are securely fastened together. We also offer seamless gutters in Birmingham and surrounding areas. We have styles to fit any reasonable budget. Call now and let us look at your home in a free, no-obligation consultation. You will get a written estimate and on-time work. You'll quickly see we are honest, fully licensed and insured.
What Type of Rain Gutters Do You Need?
Whatever your budget and architecture, we can advise you on the profile and size that will protect your home effectively. Roof pitch, typical weather conditions and the number of overhanging trees are all important factors in choosing rain gutters.
Gutter Shields
We recommend and expertly install gutter covers on any type of roof in Birmingham. Not merely leaf screens, these close the top of your gutter and allows rainwater to pass through a narrow opening to keeps debris out.
The protruding edge and Kynar 500 finish makes water go completely around the leaf guard (the way water clings to a glass when it's held under a running faucet). Twigs, leaves, etc., shoot right off the roof edge, which eliminates routine gutter cleaning.
Our gutter guards come in nine design-forward colors, they are sleek and unobtrusive, and are warranted for 20 years, plus our labor guarantee.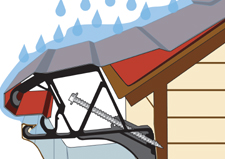 How effective is a gutter screen for houses in Birmingham? Without debris clogs to jam it up, your gutters can handle a lot of rain – about 22 inches an hour, which is double the largest recorded rainfall! You can rely on our installation season after season. Call now and learn more.
Repair and Replacement
Neglect and age can cause gutters to deteriorate. The weight of large clogs can make them sag. We can repair joints, brackets, poor slopes and rickety downspouts. We can help your system carry rainwater farther away from your home to prevent pooling near the foundation. You can trust our know-how to fix your rain gutters as well as to install new ones.
A Company You Can Depend On
We are a local company in the Birmingham area who knows how to install gutters. Customer satisfaction is extremely important to us. From first call to meticulous cleanup, we want you to be pleased. Contact our friendly offices now for a free cost estimate.
Our gutters cost less than our competitors' and afford you long-lasting protection you should not be without.
We install rain gutters in Mountain Brook, Vestavia, Hoover, and the greater Birmingham, AL areas.