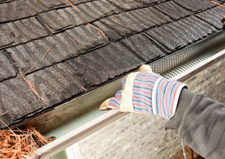 A gutter screen should not be an afterthought in home weather protection – it should be at the top of the list. It helps rain to flow smoothly away from your house, and protect your roof and walls from moisture damage. And it's a lot more affordable than you think. Call now for an estimate, free and with no obligation.
Are you in the market for gutter installation? If so, then you need to help it do its job. A quality aluminum gutter screen will prevent leaves, twigs and debris from creating clogs. No clogs means no water backing up under shingles or eating away at seams. Our well-designed gutter covers will protect your investment.
Advantages
There are many advantages to having a gutter screen installed on your home, they are available in 9 no-fade colors that harmonize with your paint colors, they are unobtrusive and streamlined in design, they attach to the roof underside, not the deck which prevents leaks and ours are 20 percent thicker than other leading brands, so they last longer.
A Simple Solution
Home protection starts at the roof. And that should include a durable gutter system that keeps water flowing off your rooftop and away from your foundation. Our strong aluminum conduits and gutter screen protection last for decades with virtually no maintenance.
That means no more climbing unsteady ladders and risking injury; no more headaches of finding someone else to do the dirty work for you several times a year – and wondering if they did a thorough job; our unique leaf guard keeps rainwater moving down the roof and away from your home – guaranteed!
Prevent Damage
With a gutter screen you don't have to worry about sodden debris standing against your roof edge. Why is that so important?
Roof damage
If wetness seeps under your shingles, it can damage the protective underlayment and decking below. Building materials can rot and leaks can form on ceilings. In winter, ice accumulations can be held against the house or form slicks on driveways and walkways.
Wall and window damage
Rainwater can also get inside the joints between your roof edge and walls, and seep inside your windows.
Foundation damage
If gutters don't work properly, you will get large puddles next to your foundation. This may increase water pressure against your basement walls, causing leaks; wash out pockets of soil underneath your home; and create a breeding ground for mosquitos.
Mold
Perhaps the most insidious problem moisture causes is mold. It can spread from the roof into walls and ceilings – but it doesn't stop there: fungus spreads by releasing spores into the air through your AC ducts. Some molds are toxic. Don't put your family's health at risk.
How it Works
Our gutter repair and replacement system has been tested to accommodate a lot of rain – more than twice the rainfall record of 11 inches in one hour! The nose-forward design of our gutter covers doesn't make this rainwater fall off and puddle around your house; surface tension makes it cling around the edge and into an opening that is wide enough to let rain in but keep debris out.
Get a gutter screen that is fabricated out of coated aluminum that is cling-free and slick.
Our gutter guards are 20 percent thicker yet surprisingly lightweight. They will not crack or sag.
Rust-proof brackets attach to the fascia, not the roof itself. This alleviates the problem of leakage through nail holes in vulnerable spots.
Kynar 500 finish keeps the surface slick and clog-free.
Superior Warranty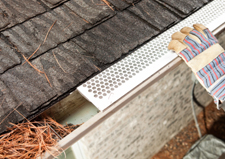 The brand we carry comes with a 20 year warranty, and our own workmanship guarantee ensures a job that lasts for decades. Finally, our excellent customer service and highly skilled technicians have made us the go-to company in Alabama for rain gutter services.
Put Away the Ladder
It only takes a day in most cases to get protection for your sectional or seamless gutters. You will no longer have to deal with scooping muck out of narrow openings or poking tools around corners and down your spouts. Our system eliminates the need for maintenance with an effectiveness you don't believe until you try it. Call now for your free estimate.
We can install a gutter screen in Birmingham, Mountain Brook, Vestavia, Hoover, Alabama.