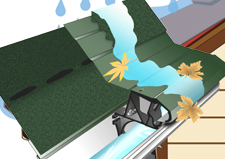 The leaves that fall from your trees onto your roof can be a major source of damage to your home. Stop them from getting into your rain gutters in the first place with a sturdy, effective gutter hood. It is designed to prevent clogs and it lasts for decades. Call now for your free estimate.

A gutter hood is a very simple way to keep rain flowing freely through your gutters and downspouts. Built into your new gutters, it is a no-worry solution!

A gutter hood, also known as a gutter screen, works like this:
Ribbed panels extend up the roof, spreading rainwater and slowing its descent.
Water is channeled over the bull-nose edge at the roofline down into a narrow channel below.
Sturdy brackets well-placed are attached to the fascia, not the roof itself, so you won't have to worry about added stress to the house top.
Water is safely channeled down the spouts and away from the foundation.
Don't Let This Happen to You
Any accumulation of leaves, twigs, acorns, etc. in your gutters causes a clog that forces rainwater to back up under shingles, and even over the protective edge known as flashing. From there it can wear away the waterproof underlayment and soak the wooden decking.

This is not an overnight process; it takes months or even years of rainy cycles. Still, it ends up causing expensive damage to your home. Once that happens, you face new gutter installation before you would normally need to, as well as costly roof repair.

Remember that aluminum and copper gutters are meant to last a lifetime because they don't corrode. The unique, patented gutter guards protect millions of homes across the US.


Prevent the Problem
Very few people enjoy gutter cleaning. It can also be unsafe, especially if your roofline is high. That leaves you with three choices:
Risk your safety two or three times a year and clean it yourself. Ladder accidents cause 130,000 injuries and 300 deaths every year!
Spend money to get someone else to do it and hope they do a decent job.
Prevent debris clogs in the first place with our effective leaf screen system.
Unless you thoroughly clean on a regular basis acorns, moss and seedlings can grow in your gutters, fed by the constant moisture. This can weigh down your sectional or seamless gutters and even break them. Gutter covers are the answer!
Prevent Premature Gutter Repair and Replacement
Prevent gutter repair with our uniquely designed gutter hoods. They allow water to get in but keep debris out. They offer you a maintenance free solution that also protects against rot of building materials, foundation erosion, insect infestation and the spread of mold and mildew.
Made from Durable Materials
Our gutter hood system is made of heavy-gauge aluminum that is 20 percent thicker than our competitors', less costly, and covered with a slick Kynar 500 finish. Best of all, it is backed by a solid 20-year manufacturer warranty and our own labor guarantee.
Next to costly copper gutters, aluminum is the gold standard of outdoor building materials. Unlike steel gutters, it will not corrode. Unlike vinyl gutters, it won't crack. It is an investment your home should not be without. Get a free estimate today!
Top-Quality Installer
As a contractor, we have installed hundreds of these gutter hood systems. Our locally based technicians are well trained and courteous. They will show up on-time, respect your property and have your home protected usually in no more than one day.
Your Choice of Colors
We offer our gutter cover system in nine carefully chosen shades that will blend seamlessly with your exterior paint. Unlike other brands, our gutter hood profile is sleek and unobtrusive. We guarantee you'll love how it looks and performs!
A Simple Way to Safeguard Your Investment
Protect your home with the most advanced, simple-to-install water diversion system available. It is thick, long-lasting and weatherproof. Call now and you'll get a free cost estimate. It is far more affordable than you think and will go a long way toward keeping your whole house protected from the damage Mother Nature causes.
We offer rain gutters and gutter hoods in Birmingham, Mountain Brook, Vestavia, Hoover, AL.