Proper gutter installation in Birmingham will keep your home safe from bad weather and the damaging effects of rainwater. Even the most expensive, high-tech rain diversion system will not perform well without excellent installation. And you have found it right here.
Rain gutters are the unsung heroes of your roof system. They are expected to work hard all year long:
In the warmer months – Channels and downspouts are designed to keep water flowing down and away from your house. Our gutters can accommodate 22 inches of rain per hour, and our skilled technicians know how to angle them for maximum drainage.

In the winter – Rain gutters keep melting snow moving along. They can even help alleviate ice damming. While good attic insulation is the key to preventing this problem, our gutter installation experts can add warming coils to alleviate ice buildup.
Nothing looks worse than rusted, sagging, clogged gutters. Even if the rest of your home is in good condition, this single flaw will make it look dilapidated. We can correct the problem quickly and correctly. Call now for a free estimate.
Call an Expert
Today's larger houses and more complex roof lines demand adequate protection from rainfall. In Alabama, with seasonal storms and heavy rainfall, you need a drainage system that can stand up to nature's abuse.
While it is possible to install rain gutters yourself, can you guarantee they will stay firmly attached for years? Do you know what width and material you need? Do you want to risk wielding ladders and power tools? We take all the guesswork and hard work out of gutter installation. We will choose the best width for your home (from 4 up to 7 inches), find the profile you need (half round or K-style), and help you decide on a style based on a variety of different colors and finishes.
Beautify and protect your home in one easy step! Call now for a free evaluation and cost estimate. We can work with your budget and timeline to create the perfect gutter installation.
Choose Your Material
We can work with all common materials. Aluminum will not corrode or lose its color. It is lightweight and easily custom-fabricated. Or you may prefer steel for its ability to hold heavy loads and withstand the harshest weather. Vinyl is a strong and highly affordable option. Copper will never rust and, while expensive, offers lifetime performance.

Each material has benefits that we are happy to explain to you. Just give us a call. With so many choices out there, it pays to have our experience and knowledge at your service. We can help you choose the right thickness for your rainfall conditions and budget. And we will never try to sell you more than you need! Trust our honest advice and commitment to customer satisfaction.
We Come Prepared
Preparing and measuring are critical to a successful gutter installation in Birmingham. We carefully figure out the right slope for your roof pitch and plan a downspout system that will keep rainwater far away from your vulnerable foundation. We come with everything we need, from the smallest fastener to high-tech extruding machines.
Top-quality Workmanship
Our seams and elbows are joined properly and will not come loose. The array will be attached firmly to your fascia, so you won't have to worry about extra nail holes in your roof. We make sure it's done right every step of the way.
Seamless Gutters
Nothing fits your home better than made-to-order aluminum gutters. We bring a special extruding machine to your home, feed a coil of metal into it, and out comes a single right-sized channel in minutes. There are no breaks in the length of the tube. That means there's no risk of leaking or catching-on of debris.
Leaf Guard Systems
To protect your gutter installation from additional maintenance, install gutter covers.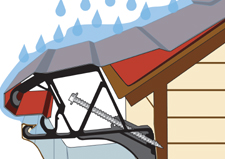 Our gutter guards direct water into a small trough while leaves and debris fall to the ground. Our gutter screen solutions will reduce gutter cleaning expenses – and save you valuable time! They can be placed on existing installations or new ones.
Choose from nine beautiful colors.
Whether you have no drainage system or want to replace worn ones, we are your fast, dependable gutter installation specialists!
Call now for gutter installation in Birmingham, Mountain Brook, Vestavia, Hoover, AL.