Invest in quality gutter covers when you install new rain gutters on your Birmingham area home. It makes sense to protect them from excess debris – especially if you have large trees near your home. We carry the most trusted products in the industry and back every installation with guaranteed workmanship and customer service.
No one likes cleaning gutters, even if it is a once or twice a year task. Getting up on a ladder, twisting and turning, and reaching into muck puts your safety at risk, too. With our patented gutter covers installed, you will keep your home better protected from the elements – and save wear and tear on your body, too.
Why You Need Gutter Covers
Leaves, twigs, acorns and seeds can easily get into open gutters. Over time, the matter breaks down and turns into a thick, organic muck that never dries out. Think of this clinging to your roof materials, adding a tremendous amount of weight to your gutters and their support system. Now think of how easy it is to add one-time protection. Install gutter covers in Birmingham and get a fix-it and forget-it solution.
Call now for a free estimate. See how our skilled, trained contractors can reduce your roof maintenance headaches and stop you from worrying about your home's structural safety.
How Gutter Covers Work
Our system combines basic physics with the latest technology. The shape draws rain and melted snow into a durable metal culvert system that flows away from your home. Moisture will not cling to your roof materials. Our signature design becomes a seamless part of the roof edge so water will not back up under the eaves, the guard's rippled surface slows down the flow and disperses it evenly, so more is diverted into the gutters. Water is drawn around the system's rounded "nose" and into a narrow opening, while leaves and twigs shoot right off the roof edge. Our seamless gutters and downspouts are generously sized to whisk away 22 inches of water each hour – that's twice the volume of the hardest rain ever recorded in the United States!
Rugged and Affordable
The gutter covers we use are made of heavy-coated aluminum. Ours is 20 percent thicker than our competition, but costs less. Aluminum is by far the strongest gutter fabrication material next to pure copper; yet it is far less expensive and lasts just as long without corroding. This is affordable protection you need to keep your building structure safe.
Avoid Water Damage
Water may be essential to life but it wreaks havoc on building materials. The longer it stays on your roof edge, the more easily it finds a way to penetrate. Your shingles and trusses can literally rot. Leaks can form. Drywall and plaster can get soaked from the inside – and it can be many months before you realize what's happening. Moisture can also cause mold growth.
In Birmingham, gutter cleaning, repair and protection are a major step in preventing all kinds of damage. Quality covers make maintenance so easy!
A Trusted Installer
We are a home improvement company dedicated to protecting your property from the top down. One phone call offers you total rain gutter services from installation to repair, as well as easy-care seamless gutters. And we always recommend a gutter screen to protect your investment. The benefits of a twig and leaf guard is a simple addition to keep your house structure dry, preventing basement flooding, keeping mosquitoes and other pests away while eliminating expensive clogging problems.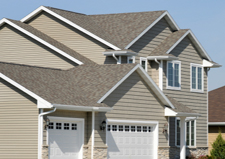 Basic gutters are open conduits, making it necessary to clean them regularly. If you're not willing to invest the time and effort – and, these days, who is? – you can eliminate clogs by preventing them in the first place.
Manufactured to last – The advanced Kynar finish will not corrode. Its 50-year warranty guarantees a virtual lifetime of protection.
Decorator colors – Our system is available in nine decorator hues to blend with your exterior.
Ingenious design – The nose-forward design attaches securely to your fascia, so your roof will not suffer the risks of unnecessary nail holes.
Ice Protection
If you are worried about ice "damming" against your roof, don't be. We can also install a heat coil into the gutter cover to prevent this "ice dam" effect. Just call. We'll be glad to answer your questions.
Call now for an estimate on our total rain gutter services. You will be pleasantly surprised how affordable this lifetime protection can be! We install gutter covers in Birmingham, Mountain Brook, Vestavia, Hoover, Alabama.