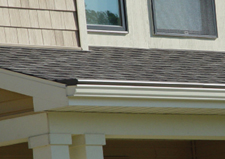 Gutter guard can extend the life of your gutters and your roof. They will help your home rain diversion system do its job better and keep it maintenance free. No more climbing up ladders and handling debris.
Your gutters and downspouts handle huge volumes of rain, twigs, dirt and leaves. If you have trees above your roof, your rain gutters work even harder. It is a wise investment to add a protective covering. Falling debris can't get in the channels. This helps rainwater remain free-flowing away from your home. It also keeps debris from weighing down your gutters and causing them to sag.
Our unique, patented gutter guards use a ribbed pattern to disperse the water and help it flow to the ground more easily, they are bull-nosed so water clings to it, but leaves and twigs keep on moving with gravity. They have a narrow slit, which ensures rain gets in and debris stays out. They are specially coated with a high-tech, no-fade Kynar finish available in 9 beautiful colors to complement your home.
How it Works
Our gutter guards use simple science principles to do the job. If you've ever held a drinking glass sideways under running water, you will see how the water clings to the glass, even the underside, before it lands in the sink. Round-edge protectors do the same thing: rain is drawn to its underside and into the channel, while twigs and leaves are washed to the ground.
The unique design disperses water over a wider area, slowing it down so it flows under the rounded edge and into the channel. The coating keeps dirt and leaves from clinging. The only garden tool you will need is a rake!
Sturdy Protection
The system is made of the thickest coated aluminum, a lifetime metal. It will not corrode and the colors will not fade. The gutters and downspouts are lightweight but extremely strong, they are held in place by heavy-duty, rust-proof brackets. The brackets screw to the fascia – the underside of the eaves – and not the roof itself. This is important because it takes weight off the shingles and will never buckle or sag.
Excellent Warranty
The gutter screen brand we carry offers one of the best warranties in the business – 20 years! However, yours could last a lot longer. And our company carries a workmanship guarantee that ensures your satisfaction.
Eliminate Maintenance
If you have trees above your home, you need our protective covers for rain gutters. You will not ever have to worry again about hauling out the ladder and scooping muck out with your hands. Our leaf guard does it for you! It is safer, more effective and built to last.
Why You Need Gutter Guards
It is important to keep rainwater off of your roof. Constant, wet debris can cause a host of problems. Water can get trapped at roof edges and it can easily back up under your shingles, puddles will form around your foundation, inviting damage into your basement. Roofing and building materials will eventually rot, leading to intrusion by animals and insects. Don't let them in; call now for a free inspection and estimate.
Cost-effective
Think of the effort it takes to clean your roofline of leaves and twigs. Even homeowners with good DIY skills may miss a few spots, especially in corners and inside the downspout. The detritus gets heavier and heavier, and never dries out. This poses a great risk to your roof and siding. With our system, you will never worry again! Your home will be more protected.
The Best in the Industry
The system we use is the result of a quarter century of technology. The Gutter Guard brand is often imitated but far superior to its competition. It is 20 percent thicker, so its lasts longer. It traps more water. And it comes with the best warranty available in Alabama!
Count on us for all your rain gutter services, from installation to cleaning and repair. You will love our friendly and reliable service! Call now and schedule a free, no-obligation estimate.
We install gutter guards in Birmingham, Mountain Brook, Vestavia, Hoover, Alabama, as well as the surrounding communities.